Shenzhen Fangyuan Cheung Clothing Co., Ltd. owns the "auspicious Belle" children's wear brand and "Fang Yuan Xiang," "Nine songs Shepherd" two well-known clothing brands. In line with the business philosophy of "unity, pragmatism, innovation and gratitude", the company takes the idea that "people are the best place and make the best use of their talents", with the goal of "satisfying and serving the needs of customers". After more than a decade of sound development, Has formed a multi-brand product development and design, production and brand operations as one of the major integrated apparel business, with strong financial strength, and repeatedly won the government awarded the "Green Baoan Fund enthusiastic Enterprise" and the honorary title. "Kyrgyzstan Belle" brand children's clothing 1980 originated in Paris, France, the founder CHENEY more than 20 years of faith - with the most excellent quality, most comfortable fabrics, the best cheaper prices, the fastest products Update, so that children have their favorite clothes. In 2009, Shenzhen Fangyuanxiang Garments Co., Ltd. acquired the only permanent right to operate children's clothing in China, which is the famous French children's clothing brand "吉祥贝 儿". It formally launched the fashion brand children's clothing "吉祥贝 儿". Companies to attract the industry elite, the establishment of a system of product planning, research and development, procurement, production, quality management, logistics and distribution, brand management and service operation system. The company has a strong R & D team, closely follow the international fashion trend, combining Eastern and Western cultures and personality characteristics of China's new generation of children, with "fashion, happiness, taste," the idea of ​​seeking new generation of children advocate "childhood - different costumes" brand New concept of consumption. The company launched a quarterly fashion children's clothing more than 200 models, each product meets the high standards of environmental quality requirements, attention to detail, work well. Through the efforts of all my colleagues in the company, "Jebel Belle" has achieved healthy and benign rapid development in just 3 years in China and won the titles of "Best-selling children's wear brand in China 2011-2012", "Top 10 children's wear brand in China 2012" Honorary title. We are based on the general public can spend the appropriate price positioning, the image of fashion personality characteristics, a complete product structure, high-quality environmentally friendly raw materials, sound channels and terminal operations and service management as the support, brand children's clothing agents, Direct sales monopoly of the modern business model and the national partners work together to jointly "auspicious Belle" brand children's wear to create a "China's first brand of green children's wear fashion."

Description




1.Usage:Home Decroration,Weather Forecast

2.Characteristic:professional and beautiful

3.Material:High Boron Silicon Glass,liquid

4.Why We are The Best:Our material is eco-friendly,our goods have good quantity




Introduction

[Storm Glass]- Are a weather forecasting tool used in the nineteenth century, A sealed glass container is filled with a transparent solution of several chemicals.According to changes in external temperature and weather, different types of crystals will appear in the bottle.It`s a glass barometer used to predict the weather in Europe in 19th century. According to the state formed inside this weather bottle, you can predict if it`s going to be a sunny, windy, cloudy, or snowy day.
[ PERFECT GIFT FOR] - storm glass Is A Symbol Of Love And Affection And Friendship.Whether It's Friends Or Family Or Colleagues, It's An Ideal Gift For Her.It's A Wonderful And Unique Idea For An Anniversary, Wedding. Gift for Any Occasion - The storm glass Is A Symbol Of Love And Affection And Friendship.Our storm weather glass is a exquisite home decor . you can put the place( Balcony, sitting room, exhibition hall, bedroom, office desk.). The changes of storm glass is very funny items ,which make us have curious about it. It is also a crafts weather gifts and conversation piece
[WOFKING PRINCIPLE ]-In a Closed Glass Container, a Transparent Solution of Several Chemicals is Placed, According to Changes in Outside Temperature and Weather, the Bottle will Show Different Types of Crystallization, Forecast Weather Changes
[THE ORIGIN OF THE STORM GLASS ] -The weather forecast bottle was first invented by British Navy Lieutenant (Robert FitzRoy) It was used on ships in Europe in the 19th century. As a weather observation device, the biologist Darwin used this equipment to assist in maritime navigation
Display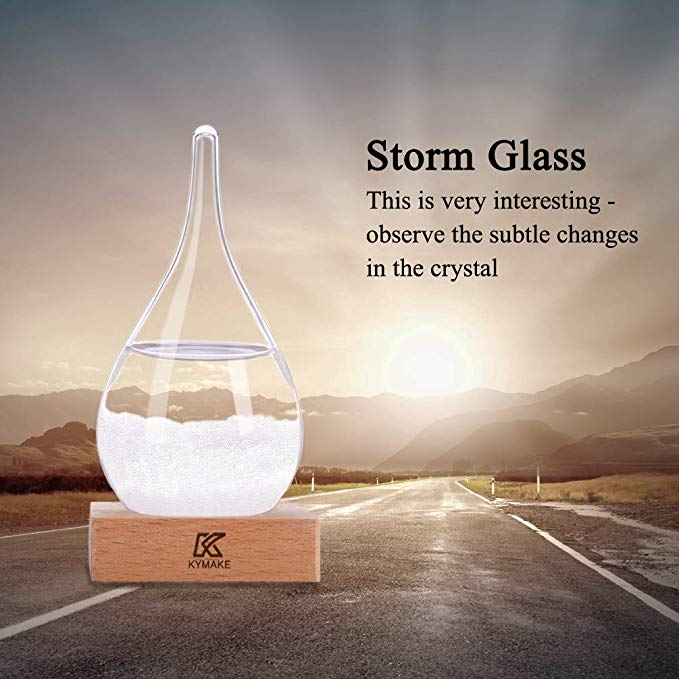 Weather Forecast Storm Glass,Magnetic Hourglass,Storm Glass Barometer,Storm Glass

BAOYING MEILIDA CHRISTMAS GLASS CRAFTS FACTORY , https://www.mldglass.com